Tour Vicenza and Palladio Villas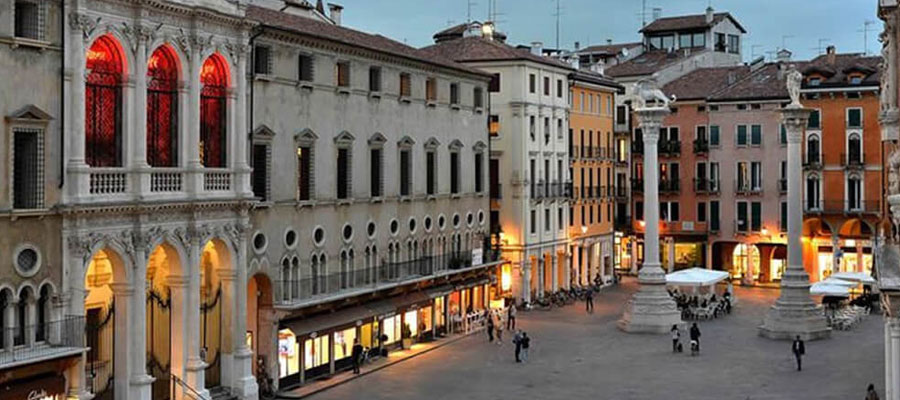 INTINERARY
Departure for the centre of Vicenza, birthplace and working town of the architect Andrea Palladio.
Morning:
Visit of the historical centre where you can admire some of the most beautiful and important works of Andrea Palladio:
Corso Andrea Palladio: Corso Andrea Palladio is flanked by numerous buildings built by the great master Andrea Palladio.
Basilica Palladiana: is the main work of the artist Andrea Palladio and one of the most imposing and beautiful buildings in the whole Veneto region.
Palazzo Chiericati: a sumptuous palace where you can admire Venetian painting from the Middle Ages to Mannerism, including numerous paintings by famous artists such as Tiepolo, Tintoretto and Veronese.
Olympic Theatre: a monument of European importance, the oldest covered theatre in Europe; thanks to the representation of the seven streets of Thebes and the three gates, an illusion of perspective depth is created.
Time for lunch.
Afternoon:
Departure for the guided tour of Villa La Rotonda and Villa Valmarana:
Villa La Rotonda: known as Villa Capra Valmarana designed and built on commission of Monsignor Paolo Almerico di Andrea Palladio around 1570, the residence passed to the Capra family in 1591. Since 1911 it has been owned by the Valmarana family who opened it to the public in 1986.
Villa Valmarana to the Dwarves whose interiors were frescoed by Giambattista Tiepolo in the Palazzina and Giandomenico Tiepolo in the Foresteria, a jewel!
Finally, I'll be back.
DETAILS
Duration:
4 h or 8 h
Rates:
4 h:
1/3 pax € 250 + 10% VAT
4/8 pax € 300 + 10% VAT
8 h:
1/3 pax € 400 + 10% VAT
4/8 pax € 450 + 10% VAT
+ entrance tickets to the villas
+ any tasting costs to be paid on site
+ any driving costs
Fast Quote
keyboard_arrow_leftPrevious
Nextkeyboard_arrow_right